President Donald Trump has not been discreet in expressing his dissatisfaction with certain key members on his team. Recent taunts blasted to his millions of followers on Twitter about U.S. Attorney General Jeff Sessions essentially equates to a public—and very negative—performance review. How would this public scolding fly in the corporate world? We asked labor and management lawyers for their perspective.
Resources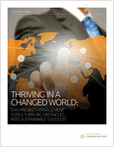 Thriving in a Changed World
The legal profession is changing. Can project management tools turn big obstacles into sustainable success? Learn how to tailor your technology to set your firm up for success.
MORE RESOURCES