Financial Services Roundtable hosted a regulatory reform panel Wednesday in Washington, where Covington & Burling partner John Dugan, Rep. Blaine Luetkemeyer of the House Financial Services Committee, and others offered observations about what's happening, and what's next.
Resources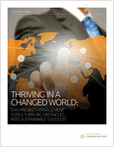 Thriving in a Changed World
The legal profession is changing. Can project management tools turn big obstacles into sustainable success? Learn how to tailor your technology to set your firm up for success.
MORE RESOURCES