Since the dawn of the digital age, tech companies have grappled with the protection of privacy rights amid demands from foreign and domestic authorities seeking evidence for investigations. Those competing pressures have meant a tricky balancing act—but Google's top lawyer has some ideas for making it easier.
Resources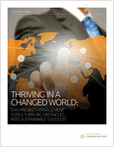 Thriving in a Changed World
The legal profession is changing. Can project management tools turn big obstacles into sustainable success? Learn how to tailor your technology to set your firm up for success.
MORE RESOURCES