The NLJ 500 report each year allows us to look much further than simply firm-wide head counts. It lets us look country by country, city by city and firm by firm too.
Resources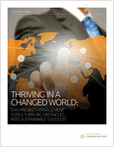 Thriving in a Changed World
The legal profession is changing. Can project management tools turn big obstacles into sustainable success? Learn how to tailor your technology to set your firm up for success.
MORE RESOURCES