Dozens of GOP House members are calling on Justice Ruth Bader Ginsburg to recuse herself from the high-stakes case because of negative comments she made about Donald Trump before he was elected president. While Ginsburg may not be forced to withdraw, one law professor said she "has only herself to blame for the optics."
Resources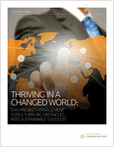 Thriving in a Changed World
The legal profession is changing. Can project management tools turn big obstacles into sustainable success? Learn how to tailor your technology to set your firm up for success.
MORE RESOURCES