The National Law Journal spotlights seven companies in the Washington area that have effectively managed corporate counsel operations in areas including overall performance, scoring big deals or litigation success, managing outside counsel, promoting diversity and handling compliance and regulatory matters.
Resources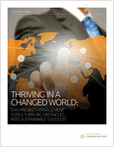 Thriving in a Changed World
The legal profession is changing. Can project management tools turn big obstacles into sustainable success? Learn how to tailor your technology to set your firm up for success.
MORE RESOURCES