Chief Justice John Roberts Jr. on Wednesday in New Zealand voiced concerns about the privacy implications of new technology that allows police to "see through walls," echoing the alarm his newest colleague, Justice Neil Gorsuch, first raised nearly three years ago.
Resources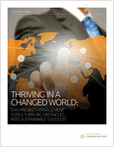 Thriving in a Changed World
The legal profession is changing. Can project management tools turn big obstacles into sustainable success? Learn how to tailor your technology to set your firm up for success.
MORE RESOURCES