The Trump administration's U.S. Justice Department on Wednesday cast aside another federal agency's arguments that gay and lesbian employees should be protected from workplace sexual orientation discrimination under civil rights laws.
Resources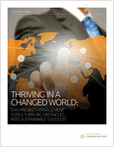 Thriving in a Changed World
The legal profession is changing. Can project management tools turn big obstacles into sustainable success? Learn how to tailor your technology to set your firm up for success.
MORE RESOURCES