Burlington Stores Inc. general counsel Janet Dhillon will leave behind her in-house role and a $1.5 million salary, if she's confirmed for an open seat on the U.S. Equal Employment Opportunity Commission. Her financial disclosure and ethics agreement were posted Thursday by the U.S. Office of Government Ethics.
Resources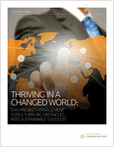 Thriving in a Changed World
The legal profession is changing. Can project management tools turn big obstacles into sustainable success? Learn how to tailor your technology to set your firm up for success.
MORE RESOURCES