Ty Cobb, in his first interview since taking a White House counsel job related to the Russia investigation, explained why he agreed to work with President Donald Trump and what he expects to do.
Resources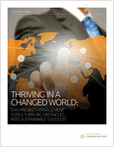 Thriving in a Changed World
The legal profession is changing. Can project management tools turn big obstacles into sustainable success? Learn how to tailor your technology to set your firm up for success.
MORE RESOURCES