As more people flock to opportunities in the gig economy and more companies press into this space, it's become increasingly apparent that novel workplace schemes don't fit into the existing labor structure that balances power between employers and their workers.
Resources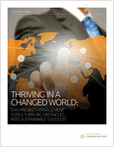 Thriving in a Changed World
The legal profession is changing. Can project management tools turn big obstacles into sustainable success? Learn how to tailor your technology to set your firm up for success.
MORE RESOURCES