From the day it was born out of the Dodd-Frank reforms, the Consumer Financial Protection Bureau has faced questions over the constitutionality of its independent, single-director structure. On Wednesday, the U.S. Court of Appeals for the D.C. Circuit will take a step toward providing an answer, as a full panel of 11 judges will hear arguments in the mortgage provider PHH Corp.'s appeal of a $109 million penalty. Here are seven things to know.
Resources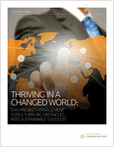 Thriving in a Changed World
The legal profession is changing. Can project management tools turn big obstacles into sustainable success? Learn how to tailor your technology to set your firm up for success.
MORE RESOURCES