Miles & Stockbridge says it knew it was one of the 200 highest-grossing U.S. law firms. It just didn't seek out the recognition until this year.
Resources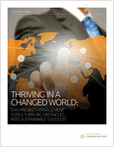 Thriving in a Changed World
The legal profession is changing. Can project management tools turn big obstacles into sustainable success? Learn how to tailor your technology to set your firm up for success.
MORE RESOURCES