Lawyers for the U.S. House of Representatives and the U.S. Department of Health & Human Services on Monday asked a federal appeals court to freeze for another 90 days a dispute over billions of dollars in insurance industry subsidies under the Affordable Care Act, a delay that could further unnerve the health insurance markets.
Resources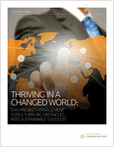 Thriving in a Changed World
The legal profession is changing. Can project management tools turn big obstacles into sustainable success? Learn how to tailor your technology to set your firm up for success.
MORE RESOURCES