Welcome to the 2017 NLJ 500, an annual survey that debuted nearly 40 years ago with 200 firms. In this year's report, the number of lawyers working at the nation's 500 largest U.S.-centric law firms in 2016 grew by about 2 percent from the previous year, to 163,700. The average lawyer count per firm bumped up slightly, to 327.
Resources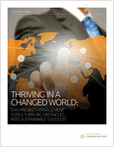 Thriving in a Changed World
The legal profession is changing. Can project management tools turn big obstacles into sustainable success? Learn how to tailor your technology to set your firm up for success.
MORE RESOURCES