In a characteristically unorthodox move, the president is reportedly poised to tap commercial litigator Marc Kasowitz to lead his personal legal team amid probes into his campaign's alleged contacts with Russia.
Resources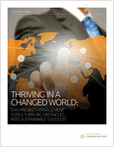 Thriving in a Changed World
The legal profession is changing. Can project management tools turn big obstacles into sustainable success? Learn how to tailor your technology to set your firm up for success.
MORE RESOURCES