For the sixth year in a row, the Fragomen, Del Rey, Bern-sen & Loewy holds the top spot on The National Law Journal's Women in Law Scorecard, which ranks the nation's largest law firms according to their percentages of women attorneys.
Resources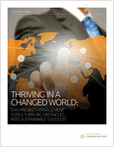 Thriving in a Changed World
The legal profession is changing. Can project management tools turn big obstacles into sustainable success? Learn how to tailor your technology to set your firm up for success.
MORE RESOURCES