If you're not making or listening to a podcast, you're not doing it right. Nearly every lawyer and blogger in Washington, D.C., who's somebody—or wants to be—has pushed himself into someone else's earbuds lately. Podcasts have become all the rage.
Resources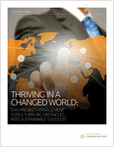 Thriving in a Changed World
The legal profession is changing. Can project management tools turn big obstacles into sustainable success? Learn how to tailor your technology to set your firm up for success.
MORE RESOURCES