The D.C. Circuit's en banc argument in PHH v. CFPB was one of the hottest tickets in Washington on Wednesday. Here are some highlights from the 90-minute hearing over the constitutionality of the single-director structure at the President Barack Obama-era agency long in the crosshairs of Republicans and criticized by business advocates and financial companies.
Resources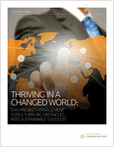 Thriving in a Changed World
The legal profession is changing. Can project management tools turn big obstacles into sustainable success? Learn how to tailor your technology to set your firm up for success.
MORE RESOURCES