The Consumer Financial Protection Bureau wants to hold a company in contempt over document production, the U.S. Chamber dings the IRS for working with private law firms on audits, and President Trump makes his first pick for the National Labor Relations Board. This is a regulatory news roundup from ALM publications and around the web.
Resources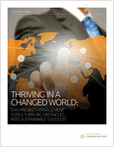 Thriving in a Changed World
The legal profession is changing. Can project management tools turn big obstacles into sustainable success? Learn how to tailor your technology to set your firm up for success.
MORE RESOURCES