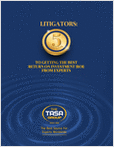 Expert witnesses can be crucially valuable to your case or they can do more harm than good. Learn 5 secrets to extracting the best return on investment from experts.
Expert witnesses. Can't live with them. Can't live without them. Plenty of attorneys' biggest problems are with experts, not the facts of the case. A quality expert on the right case, handled with a strategic approach, can deliver more value than their expenses.
Take your expert witness strategy to the next level and start minimizing the hours invested to ensure experts become seamless contributors to your case strategy.
In this white paper, you'll learn:
How to better determine what type of expertise is needed on a case
Coveted qualities of the most effective experts
Best practices for calculating expert fees to create ROI
Tips for handling the expenses associated with experts
read more