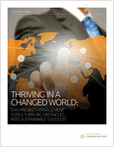 The legal profession is changing. Can project management tools turn big obstacles into sustainable success? Learn how to tailor your technology to set your firm up for success.
Technology, the law, and client needs have evolved and small law firms are feeling the pressure. Attorneys are realizing that traditional strategies in the practice of law and the business of law no longer apply.
Are you prepared to respond to your clients needs and exceed their expectations?
What if you could satisfy clients without sacrificing quality or your profit margin?
This white paper delves into these questions and more. Find out what tools are available and how to leverage them to stay competitive in a changing legal world.
read more