Adam Jed, a 2008 Harvard Law School graduate and former clerk to U.S. Supreme Court Justice John Paul Stevens, has joined Special Counsel Robert Mueller III's legal team in the investigation of Russia's interference with the U.S. presidential election. At the DOJ, Jed defended the Affordable Care Act and helped implement the Supreme Court's DOMA ruling.
Resources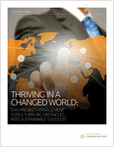 Thriving in a Changed World
The legal profession is changing. Can project management tools turn big obstacles into sustainable success? Learn how to tailor your technology to set your firm up for success.
MORE RESOURCES