President Donald Trump promised to re-create the government and diminish its regulations, but he faces an increasingly organized and determined opposition in Democratic state attorneys general.
Resources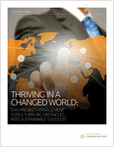 Thriving in a Changed World
The legal profession is changing. Can project management tools turn big obstacles into sustainable success? Learn how to tailor your technology to set your firm up for success.
MORE RESOURCES